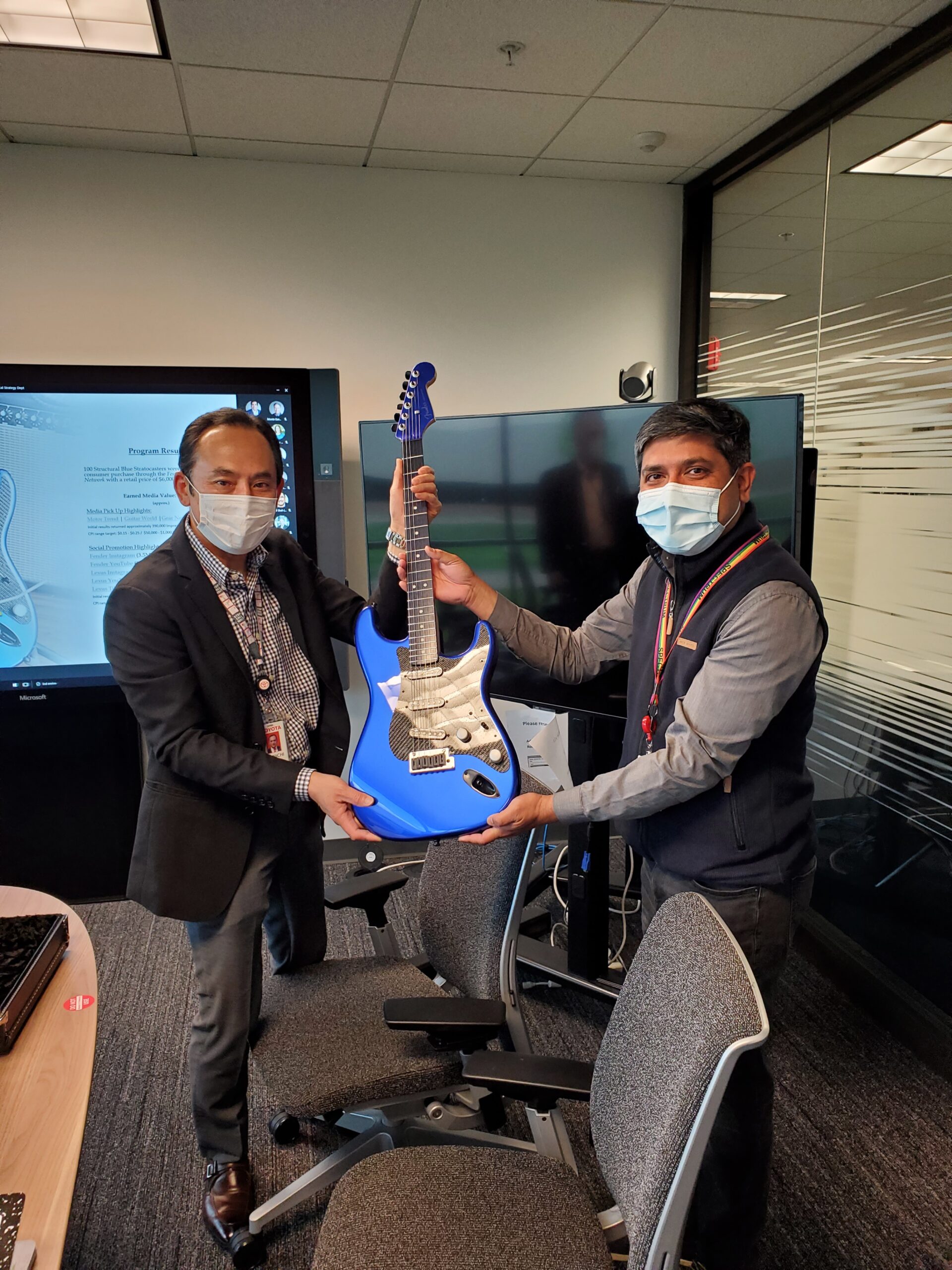 Shinichi Yasui (Executive Vice President of Toyota Motor North America R&D) and part of the research & development team responsible for this beautiful paint, Debasish Banerjee, finally get their hands on the Structural Blue painted Stratocaster
ANN ARBOR, Mich.
The idea that started off with computational modeling and hours in a lab resulted in a fantastic blue paint on Lexus that can now be seen on new products
A limited-edition Fender® Stratocaster® guitar, inspired by the Structural Blue Lexus LC, found a home at the Ann Arbor R&D campus. Getting to this point was not easy!  A team of scientists from Toyota Research Institute on North America (TRINA) drew inspiration from the Morpho butterfly. Native to North and South America, this insect is renowned for the deep, shimmering blue of its wings. In reality, the wings are actually made of colorless materials. The blue seen by the human eye is created by light interference on the intricate nanoscale lattice surface structure of the Morpho butterfly's wings. The 15-year quest to develop this seemingly impossible blue color saw a required extensive collaboration between the research, development, and design teams in TMNA R&D, Toyota Motor Corporation (TMC) Japan, together with VIAVI Solutions Inc, a leading provider of thin film optical coatings and pigments based in California, USA.  Structural Blue was finally realized in 2018 and later in 2020 for the inspiration series Structural Blue Lexus LC 500 and 500h. This R&D 100 award winning paint hasn't just been used on Lexus vehicles.  ​​​​​​​IP solutions, Lexus design team in the US, and American guitar-maker Fender worked together to create this extraordinary guitar. Keep your eyes open for this unique paint to find a use in additional non-automotive applications.
Links to learn more about the technology and product:
https://pressroom.lexus.com/fender-and-lexus-partner-to-release-the-fender-lexus-lc-stratocaster-guitar/