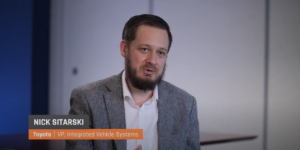 For the past century, Southeast Michigan has been the hub of the automotive industry. Now in partnership with the city of Detroit and in collaboration with American Center for Mobility, Toyota R&D has shifted its focus on the future of mobility. "We've committed around $6M dollars between track usage and expansion of facility, both for the design, development, and evaluation of some of our mobility systems that are both in production now and will be coming online here in the next several years" (Nick Sitarski, VP of Integrated Vehicle Systems).
ACM is located at the historical Willow Run airport in Ypsilanti, Michigan where aircrafts were manufactured during WWII. After the war it became a plant for automotive manufacturing until 2010. The facility has been working with many automotive OEMs in recent years, including Toyota's own Integrated Vehicle Systems.
"Southeast Michigan is the best place to be to bring the brightest and the best from both the supply base and from a hiring standpoint. From the universities to community colleges, whether it's an automotive engineer or a technician or someone doing software, we think here is the best place to be to bring in the best talent." (Monte Kaehr, Group VP of Advanced Mobility at Toyota R&D).
If you would like to learn more, please view the video here.